Low powered environmental sensors
Real-time data, alarms & notifications
24/7 access via our Mobile App & Viper (SaaS)
No need for intrusive CCTV cameras.
Peace of mind for family and carer's
Plug & play sensors and gateway
Remote monitoring, designed for scale
A+ grade security between sensors and cloud
How It Works
A Complete Solution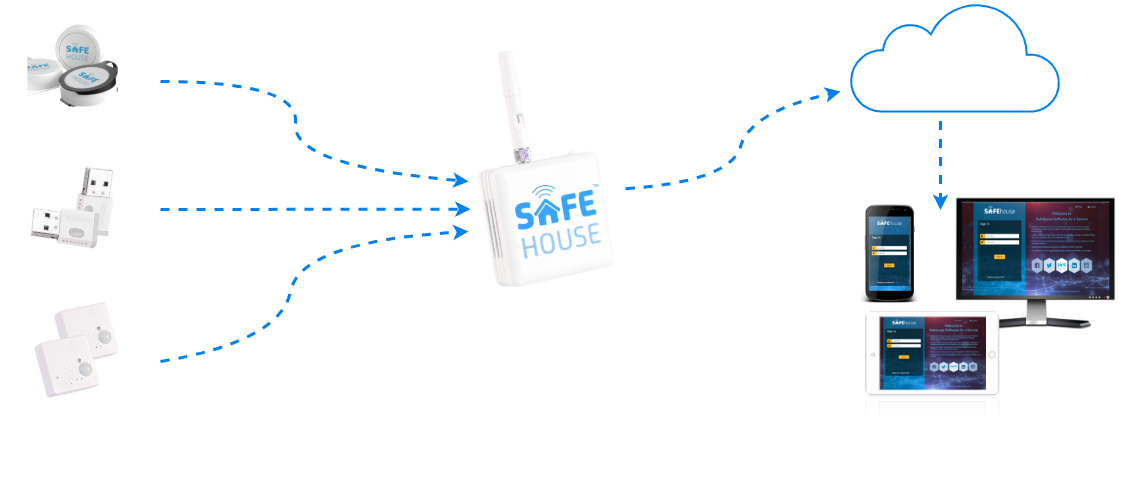 01
Sensors - Small ingenious sensors for humidity, temperature, noise levels, CO2, door status, light levels and core remote monitoring of your assets.
02
Safehouse Hub - Our Safehouse hub cloud connector gathers sensor data and transfers it to our cloud or a partner cloud.
03
Viper Cloud & API - View and manage data via our Viper Software as a Service platform, or a custom integration through our API.
Solutions
Our mission is to make Safehouse accessible to everyone.
Our vision is to deliver solutions that can improve the health and wellbeing of people, and buildings alike. Enabling individuals to live longer and safer in their own homes, whilst providing facilities management the ability to monitor the safety, security, and environments of their buildings.
We are deeply passionate about what we do and the quality of what we deliver. We have both designed and adopted a portfolio of products and services that have been enriched with cutting edge technology partnerships sourcing highly talented individuals and collaborators.
We operate on a user perspective not just a design one, this enables us to consider any challenge from all angles, therefore assuring that our solutions deliver in terms of design, intention and performance and gives our customers either the security they are seeking or the return on their investment needed.
Sensors & App
Safehouse sensors can easily stuck to any wall or surface around the house and can also be set up on doors to monitor activity
Safehouse App enables users to control and get instant reporting about their loved ones activities even when they are away from them.
Read More
Facility Management
Safehouse is used by Councils and Housing Associations to monitor environmental conditions of properties, enabling decisions on your portfolio to be made based on real time data and AI.
Fire risk assessments by monitoring Fire Doors, Alarms, Movement, Temperature and Air Quality.
Reductions in running costs by monitoring Building Temperatures and External Environmental Conditions, Moisture and Air Quality.
Measuring and reducing Carbon Footprint by monitoring Movement, Building Temperatures and External Environmental Conditions, Moisture and Air Quality.
Read More
Viper - Software as a Software
Online and on the go, login from any of your devices anywhere is the world.
Keep up to date with 24/7 access to your loved ones activity and home conditions to be reassured at a glance of their health and wellbeing.
Set up text alerts to notify you of emergency alarms and changes in patterns so you are one step ahead of their care.
Read More
Partners